They're Really Going to Do Nothing, Aren't They?
Fear and Anxiety as Things Bottom Out and Leaders Abandon Us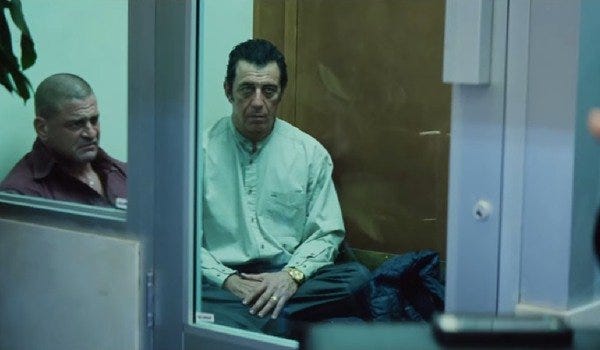 Credit: Uncut Gems/A24
I can't stop reading depressing news. I just can't. The last month I've found myself "doomscrolling" through stories about irreparable climate change damage and the struggles of unhoused people. But the topic that keeps coming up again and again is the current economic disaster and the lack of federal assistance for those who are losing their jobs.
It's been a few weeks and yet I'm still shocked at how badly those in power are screwing us over. I don't mean some big conspiracy about The Man or some one-sided thing. I mean how amidst a massive economic crisis caused by an ongoing deadly pandemic those in power are simply abdicating their responsibility and leaving the United States to tread water or drown.
Washington Post journalist Hamza Shaban shared a pair of screenshots from Bloomberg at the start of the month that laid out the inequality we're seeing right now: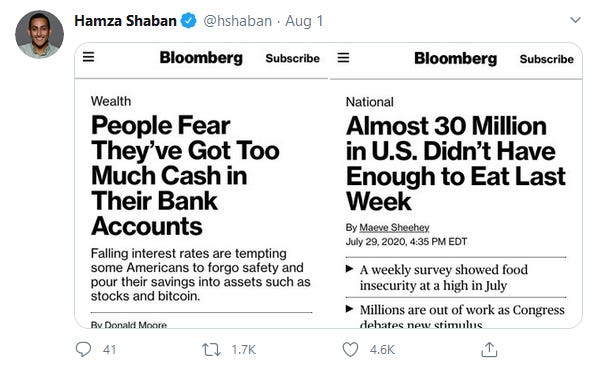 Hell of a thing. As the comments to that tweet noted, look how only one headline uses "people" in it. Meanwhile the rest of us are screwed. A range of Republican officials from Ted Cruz to Steve Mnuchin have spent weeks talking about the horror of paying people more to stay home than what they make on the job. Eventually Congress just gave up and went on recess without a deal to extend the enhanced unemployment insurance of $600. Trump has talked about extending enhanced UI but nothing concrete has happened and the apparent plan wouldn't cover much for long. Meanwhile, as that screenshot said, more and more people are facing food insecurity. We're not talking about a few hundred people, but millions. Land of the plenty, right? Then, due to job losses and drying up incomes, one in three Americans didn't pay rent in in August. This is as eviction moratoriums start to expire around the country. That extra money isn't nothing, especially when the only straight up stimulus check we got was $1,200 that Mnuchin said should last 10 weeks, somehow.
Disclosure: I'm on UI thanks to being part of a newspaper's editorial staff that got the axe in March. Freelancing helps a bit but even I'm scared of what the fall will mean for me. I'm likely good for the next two months but I can't guarantee my own well being, which weighs heavily on me. I know I'm not alone in feeling that. There was a study saying that a quarter of young adults had considered suicide in the last two months. That's just those who answered the survey. Maybe this is too personal but this whole situation is gnawing at me. I'm lucky enough to be okay for the short term, I think, but I'm still crunching budgets weekly and stressing about that federal help. So many more are not as fortunate as me and I worry about them.
It makes the absence of any solution from the government sting. Yes, the Democrat-controlled House of Representatives has passed legislation for more benefits that sits ignored in the Republican-dominated Senate. Yes, the GOP clearly isn't doing anything. At the same time though, where is the fight? Nancy Pelosi recalled the House to (rightly) investigate clear manipulation of the United States Postal Service ahead of the election, but I don't hear Congressional leadership rallying to help people suffering this very moment.
It's also messed up that at the Democratic National Convention, where the nominal opposition party is supposed to say what they're fighting for and the issues concerning their base, this crisis only got a few meager mentions, including from Congresswoman Alexandria Ocasio-Cortez. You'd think the reality of people slipping into poverty, going hungry and losing their homes would get more attention. It's a real crisis.
On that note, I want to add something to the previous post about how it's going to get worse. It's going to get so much more worse in a way I hadn't considered. As I saw pointed out on Twitter, the mass evictions mean that people are going to be displaced and might lose their voter registration. Since the nominal opposition party won't use its constitutional powers in Congress, the only option is the election and now that seems like a systemic catastrophe.
Today's Panic Reading
As some of you know I write about homelessness as my main beat these days, and hopefully soon after this goes out my next big piece will be up, but I highly recommend reading Jeff Weiss' article in issue two of The LAnd magazine. It's an excellent look at how Los Angeles got the way it is, who's working to offer real solutions, and how ongoing power struggles and corruption get in the way.
Speaking of politics, Jack Crosbie at Discourse Blog penned this important piece on why "vote" as a slogan is hollow. I've shared it and already been told that pieces like this are helping Trump, somehow. But I recommend reading it. You want to win? Run on policies that directly benefit people's lives. As this newsletter points out, people need help. Don't just include them in a platform, talk about them and make them your do-or-die issue.
Today's Panic Music
What's that? Performative messaging without any real truly political policy work and movement behind it is the message of the year? I know I share a lot of Pulp and Jarvis Cocker songs, but this B-side from the band's This is Hardcore album is pretty damn good. It's written about the New Labour movement of Tony Blair, but you can apply it to the Democratic Party of today.
I'll be back later this week with more film writing and probably something about a certain 19-year-long war that no one cares about.