Never Forget How Bad Things Were In the Aftermath
Our Failure to Come to Terms With Our Terrible Response to 9/11 Continues to Harm the World
Today is not an easy day. For friends who lost loved ones 19 years ago I have nothing but sympathy and support, and honestly that goes to everyone hurt or traumatized by the terror attacks that day. Since that September, the horrific tragedy has become a hallowed topic, a point of mourning, a rallying cry for the United States and, sadly, a buzz word that ignores so much of the harm and destructive reactions done in its wake. Take, for instance, what Nobel Prize-winning economist and New York Times columnist Paul Krugman tweeted this morning:
Utterly and completely absurd stuff. Krugman didn't just say that though. He kept on tweeting, hammering home a point that is ahistorical and nowhere close to accurate. And you know what, I didn't really want to write anything about today, there are far more important things to read about personal losses. But this was the latest version of a kind of bizarre remembrance of 9/11 that I've seen lately and it is a truly worrying trend. For the last 19 years we've heard people say again and again, "never forget." And we haven't forgotten the event or the lives lost but this country has collectively ignored the brutality, hatred and destruction that came out of it. That willful ignorance is actively damaging life in 2020 and making it harder for us to both build a better society and provide justice for those brutalized by what came under Bush and continued afterward.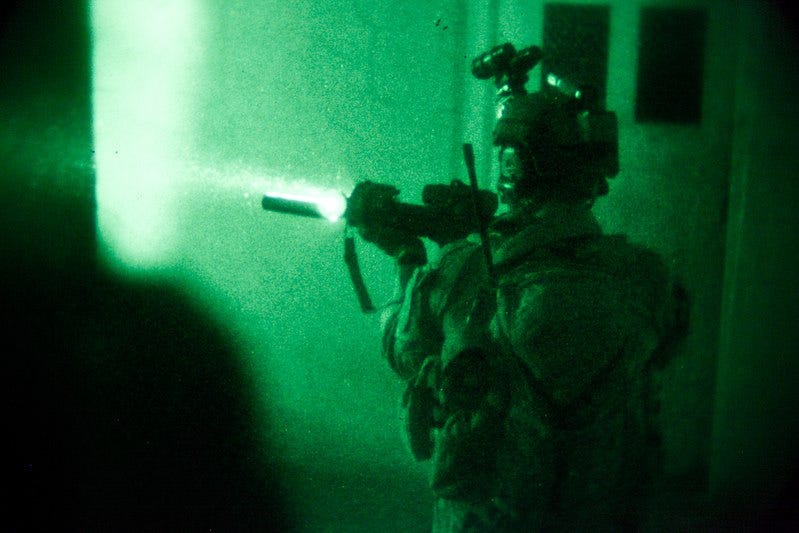 DoD photo by Staff Sgt. Kaily Brown, U.S. Army/Released , used under Fair Use
Revisionism and rose-colored glasses of the Bush years isn't new, and it's not some rare thing. Bush's approval ratings have gone up in the last few years, liberals are calling for him to endorse Biden. As so much of this election has come down to a battle of "decency" between Biden and Trump, many have talked about George W. Bush's supposed empathy. The guy was on Ellen! But the era was bad. In fact it was horrifying. It was full of outright illegal and traumatizing moments and policies.
A reign of terror took over the United States in the wake of 9/11. On individual levels, the wake of Sept. 11, 2001 saw a massive amount of hate crimes against Muslim and Arab Americans. Ignorance of religion and culture saw Islamophobia and violence directed at Sikhs as well, and even Jews. In October 2001 a Delta flight was diverted and forced to land early because panicked Americans thought praying Jews were angry, threatening Middle Easterners. Not even a month after 9/11, George W. Bush declared the war to be a "crusade."
On a national policy level, the United States abused and violated civil and human rights. A surveillance program was set up to spy on Muslims. We oversaw illegal renditions, began a kill campaign without borders and, as President Obama so memorably put it, "tortured some folks." This past year a video of Ellen DeGeneres defending herself for hanging out with Bush was edited to show images of the Abu Ghraib prison torture; her staff scrambled to get it removed while the video spread quickly and forced people to acknowledge the torture program for the first time in years.
Honestly, the entire Bush years were so utterly depraved and reactionary and absurd, I cannot even begin to describe them. Last year on Sept. 11, @mugrimm on Twitter compiled a list of all of the wild moments in a thread and I urge you to read it:
The biggest problem with our country's willful ignorance of this is that it enables the mechanisms and power structures that oversaw the post-9/11 horror to continue. Think about it, we're 19 years removed from the attacks and so much of what was put in place afterward continues on, or the people who pushed for it remain in power. The Authorization for the Use of Military Force passed after 9/11 has been stretched to its fullest, being invoked to justify American involvement in Syria and Yemen and Somalia. Thousands of troops are still in Iraq and Afghanistan and peace is still very uncertain in the latter. At a certain point our collective voluntary amnesia began quickly endangering us. Look at how it's gone. A former head of the NSA, who oversaw programs exposed by Edward Snowden's whistleblowing and ultimately proven unconstitutional by federal courts, is now on Amazon's board of directors. Mike Bloomberg oversaw the NYPD's illegal surveillance of Muslims in New York City, and yet was given a primetime speaking spot at the Democratic National Convention.
So many of the people who gleefully and proudly boosted and defended the Iraq War, including spreading the debunked claim that Saddam was involved in 9/11, have cushy editor or columnist gigs. And so many of those people are trying to steer the Democratic Party to the right, not out of policy disputes with Trump but just because they don't like his manners. Look at Frum, who literally wrote a piece saying that if liberals don't enact fascist immigration policy, Americans will vote for fascist to do so! The shadow war conducted by the CIA and Joint Special Operations Command began under Bush, metastasized under constitutional lawyer Barack Obama, and now is even bloodier — and sadly more secret — under Trump. The failure to look at what went wrong and maybe hold those responsibly accountable has created a self-perpetuating monster that has become self sufficient. Meanwhile hundreds of thousands of people have died as a result of the actions the United States has taken since 9/11, including American service members and civilians abroad.
It's that lack of understanding and reconciliation that has permeated our response to all tragedy. Right now, thousands are dead in the United States from the COVID-19 pandemic, and no great collective mourning or grief has happened. The country, both in leadership and how people are trying to go back to daily life, is just trying to push a mass-casualty event into the background. With 9/11, we've annually mourned the dead; they are invoked constantly, we all always remembering the losses that took place that day. But now we can't even come to terms with mass death.
In May 2011, in the aftermath of Bin Laden's killing in Pakistan, the late journalist Michael Hastings (my hero as a reporter) wrote for Rolling Stone:
"My hope — and it is not one I have much hope in — is that our political leaders will use bin Laden's death to put an end to the madness he provoked. Withdraw our remaining troops from Iraq, a country that never posed a threat to us. End the war in Afghanistan, where we will spend $120 billion this year to prevent the country from becoming a hideout for Al Qaeda. As bin Laden's death makes clear, our true enemies will always find a hideout, no matter how many people we torture and bribe and kill. For the past 10 years, we have used the name Osama bin Laden to justify our wars. Perhaps, now that he is dead, we can use it in the cause of peace."
Nine years later we haven't learned. The ongoing wars continue, in the backburner of the American psyche. Our "fight them over there so we don't have to fight them here" mindset has led to massive xenophobia — and warped into a truly baffling repeated statement from Pete Buttigieg — while utterly failing to be true. The weapons of hate and disproportionate vengeance have been turned inward, with protesters being grabbed off the street in unmarked vans, a border policy that turns most urban areas into the territory of CBP, and the crusade mindset having kicked off rampant and worse Islamophobia to the point Trump ran on and won on a policy of a Muslim ban. Paul Krugman isn't the end-all-be-all person for this, his bad take isn't the only one out there, but he and the entire United States should know better. Our willful amnesia is preventing us from stopping the harm we're doing to ourselves and others.
Today's Panic Reading
Happy to share some of my paid writing this week, although the topic is dark. Here's my debut piece at Shelterforce, covering how state and local governments used hotel rooms to house homeless people during the COVID-19 pandemic and what's next for those programs.
Meanwhile over at the New Republic, the always great Alex Pareene has a bold proposal for Biden and the Democrats: run on making things work again.
And finally, Sept. 11 is also the 47th anniversary of the coup that ousted democratically elected President Salvador Allende of Chile. The United States supported the coup led by General Pinochet, who took power and oversaw years of politicide, repression, and state violence of a horrifying level. This is more of a video than reading, but Bernie Sanders, then a representative in the House, offered this good history lesson on the evils of the plot against Allende.
I'll be back in a few days with some movie and class-related pieces. Until then, be safe and take care of yourselves.