Forgetting the Forever War
Serious Developments Are Happening in Afghanistan, But No One Wants to Talk About the War
These last two weeks, as bodies pile up from a mishandled pandemic, as bank accounts drain due to lack of federal assistance and as people took to the streets to protest yet another unjust and horrifying shooting of a Black person by police, the two big parties in the United States held their big fetes. Amid all of the bloated rhetoric and pageantry at both conventions (and in the Republican National Convention's case, multiple Hatch Act violations), there was one thing that noticeably wasn't focused on: Afghanistan. Has the entire country forgotten about it? You know, the war that has been going on for more than 18 years?
In Joe Biden's big speech when he formally accepted the party nomination, the war didn't come up. This is despite the war being central to the Obama administration's foreign policy that Biden served in. A dig into the Biden campaign's platform on its website finds the war only briefly mentioned when talking about ending forever wars. The campaign says that Biden will bring "the vast majority" of troops home, but leave some to fight al-Qaida and ISIS. Nothing there about how to bring peace or secure human rights in the country, or working with allies to do so. The DNC's 2020 platform includes only five references to the war, only a few directly about plans for bringing about a solution to the 19-year-long conflict.
At the RNC, there weren't many other references either, beyond a few comments from people such as Senator Rand Paul. One egregious moment was when Eric Trump praised his father for dropping the biggest non-nuclear bomb the American military has, the GBU-43/B Massive Ordinance Air Blast or "Mother of all Bombs," in April 2017. The bombing was However, the Trump administration has repeatedly avoided confirming whether it gave the order, instead saying that the military was authorized to make its decision. Then-commander of American forces in Afghanistan Gen. John Nicholson got permission to use the bomb but we don't know from who. And that "mighty MOAB" strike Eric Trump praised killed civilians as well, according to reports.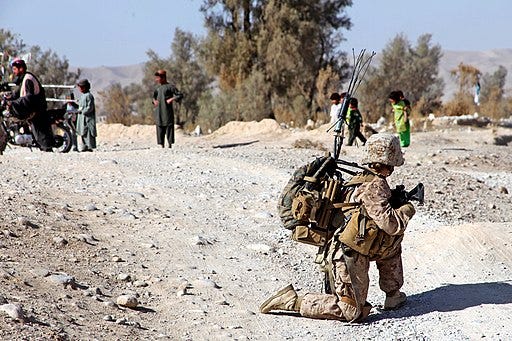 Credit: English: Cpl. Katherine Keleher / Public domain
And weird avoidance of discussing Afghanistan isn't some brand new phenomenon. During March, as the COVID-19 pandemic escalated to the point that the far-right could no longer dismiss it, Donald Trump tried to bolster his position and his tepid, too-late, inept response by declaring himself to be a "wartime president" in light of the crisis. Unfortunately, once again, his narrative took hold in political media, with outlets from the New York Times to NPR using it. It seemed like another foolish comment, but it didn't go away after March. In late June, Trump's general election rival Joe Biden played into it, saying that the wartime president "surrendered." Now, the coronavirus outbreak is serious, people are dying daily, and I don't want to detract from the many failings the Trump administration has made in handling it. But this is an absurd framing misses a very important point: the war isn't over and no one seems to have a plan for ending, nor do they care.
So of course Trump's a wartime president. He's been one since he was sworn in. So was Obama. So was Bush for most of his eight years in office.
(Yes, the Korean War is still technically ongoing; you get bar trivia points for knowing that.)
What is surprising about this dismissal of the war is that 2020 has been full of major developments in it. At the end of February the U.S. And Taliban actually signed a conditional peace deal. That's a shocking and serious development, and one that called for all NATO troops to leave after 14 months, with conditions including the Taliban preventing al-Qaida from operating in area it controls, as well as starting peace talks with the Afghan government (who were not involved in this February development). Of course that seems to have fallen apart as violence has heavily restarted and prisoner swap deals fell through. It's only now, in August, that the Taliban and Afghan government have finalized teams for peace talks between them.
The other big news was the reporting in June, citing intelligence reports, that the Russian government was putting up bounties on American and allied troops. This is very serious if true, but it should also be acknowledged that other nations trying to influence the war isn't new — Pakistan has been involved in militant groups operating in Afghanistan for years, and there have been reports of Iran and Saudi Arabia also providing support or doing similar reward programs. But the fervor over this report sparked some actual action from Congress on the war, just not what you'd expect. The House Armed Services Committee approved an amendment to the National Defense Authorization Act that puts a series of conditions on the money that would be appropriated for troop withdrawal; in essence it makes it harder for troops to be removed from the war.
The war even came up most recently in a very surprising moment. Remember Trump's disastrous July Axios interview? One segment of it that didn't get as much coverage was Jonathan Swan asking Trump about troop levels in Afghanistan. Trump claimed that troops would be drastically reduced by the November election, but when pressed refused to confirm any real plan beyond saying off the cuff maybe 4,000-5,000 troops would remain. This is in part within the parameters of the Taliban peace deal, but the Pentagon hasn't fully laid out its phase-out approach. It's hard not to doubt what Trump says, just given his track record of lies and off-the-cuff statements.
This acceptance but not acknowledgement of the war in Afghanistan is sadly part of a self-fulfilling cycle. Despite the big launch of the war in the fall of 2001 when the U.S. And its allies toppled the Taliban government, the Afghan War has steadily slipped away from public consciousness, eclipsed first by the illegal Iraq War then global recession and the fight against ISIS. The country is currently in the 19th year of the conflict. We're only weeks away from the 19th anniversary. Two decades of mismanagement, enabling of corrupt warlords, a lack of a plan, and doubling down on failed counterinsurgency methods have not resulted in peace, but rather approximately 30,000 dead civilians. There are people fighting the war now who were not alive when the World Trade Center fell. And yet, at the highest levels of public discussion, the United States doesn't want to talk about it. We've seen how little it was mentioned this past month in the conventions. Even in the 2016 presidential election, the country got a single mention, in a passing moment in a list by candidate Hillary Clinton about the importance of NATO. It's unlikely to come up in the 2020 presidential debates. Meanwhile people are dying, mainly Afghan civilians who are are caught up in the crossfire of all of this. It matters that political leaders in the United States are not focused on the war. Without any urgency or focus, it's unlikely any resolution will happen.
So where are we at? Violence is continuing with targeted attacks in Kabul. Negotiating teams are being consolidated by the Taliban and Afghan government to start peace talks. It's unclear how successful any talks will be — and there is very true risk that if a deal is reached and foreign troops leave the Taliban could just overtake the country since it already controls a large swatch of it — but it is at least a start. It's just also unclear where that leaves the United States and allied troops, especially considering how uninterested leaders are in finding a resolution.
It honestly seems like there is no actual plan or clear path for the U.S. To exit Afghanistan and help end the violence there, nor even a desire to, which is terrifying. Yes, there are extremely pressing issues going on, not just the pandemic but massive inequality, a failing health system and an increasingly brutal use of force by the Trump administration against protesters. But much of the government's actions at home, as Spencer Ackerman and others have so eloquently put it, are signs of the forever war coming home. To address the brutality at home, we must deal with the war abroad.
Until that, and the War in Afghanistan are resolved, we're stuck with this deranged war framing of any crisis. And far more death, deaths of innocent people that will continue to be forgotten by the people who help enable the conflict.
Today's Panic Reading
Like so many people I'm shocked and devastated by the sudden death of Chadwick Boseman. There are far better eulogies of him than I can offer, especially as a white man. I recommend reading Clint Smith III and Black Panther director Ryan Coogler's writings on Boseman's passing. But I do want to say that he was a great actor, who made a career playing legends and heroes, and then brought a symbol to life, becoming one himself. And he did it all while battling cancer without us knowing. That's strength. RIP.
It's something of a trope now that I share every climate change-related story on Twitter with the comment "we're all going to die" but honestly, have you seen any good climate news lately? Here's the latest "we're all going to die" news: 60% of Antarctic ice shelves are at risk of collapse.
Today's Panic Music
Thanks to Kelsey Atherton (go subscribe to his newsletter!) for turning me into this: Wugazi. It is exactly what it sounds like, a Fugazi and Wu Tang Clan mashup album that is fantastic. It's equally tranquil and urgent and has been a good part of my playlists these last two anxiety-filled months.